Shopping Cart
Your Cart is Empty
There was an error with PayPal
Click here to try again
Thank you for your business!
You should be receiving an order confirmation from Paypal shortly.
Exit Shopping Cart
AT Louis Jones Physiotherapy
15 Crabtree Arcade
Grand Avenue
Lancing
BN15 9PR
07896 654 275
Elhers-Danlos Syndrome and Massage.
Elhers-Danlos Syndrome (EDS) is a group of inherited disorders that affect the connective tissue of an individual. It affects both genders and crosses all racial and ethnic backgrounds. Symptoms range from:
·         Joint hypermobility – joints stretch further than normal. Joints are prone to subluxation and/or dislocation.
·         Musculoskeletal pain.
·         Skin hyper-extensibility – fragile skin that easily tears or easily bruises, slow or poor wound healing.
·         Arterial/intestinal/uterine fragilities (vascular EDS) to name a few.
There are currently 13 subtypes of classification for EDS.  
Up until 3 years ago I didn't really know anything about EDS, but a client came to me with some considerable musculoskeletal pain due to her hypermobility EDS. Massage will never cure this syndrome but aims to help in the reduction and management of musculoskeletal pain and to aid in the quality of life of a sufferer. Research has shown that Myofascial release can help reduce muscle spasms and provide some short-term relief from pain. But also, treatments using heat, cold and massage can help as long as they are tailored to the individual's needs. (Levy 2007)
 I have found the above to be true as no two treatments are the same as I am completely guided by how the client feels on the day of the treatment. A treatment may include some trigger point work and stripping of the supporting joint muscles if the client is having a good musculoskeletal pain day or Hot stone work and Myofascial release if the pain on that day is more intense. 
Below is an account of why an EDS sufferer includes regular massage as part of her care routine:
"I have been having regular treatments with Carla for about 3 years now in a quest to get some relief from my EDS.
No two appointments are ever the same. Carla always spends time listening to what that week's issues are from a full body flare up to a sub laxed hip to name a few! 
Carla has tried a number of different treatments on me from cupping and taping through to myofascial release and massage with the added bonus of hot stones. I always feel comfortable with whatever treatment Carla decides is best.
Massage and myofascial release work wonders on my body the treatment is very relaxing even though we have to work through some sore points, but even with the sore bits Carla is very gentle and talks me through what she is doing. Immediately after a treatment my body reacts in one of 2 ways I either get up and carry on or I am in a very relaxed and fatigued zone meaning I need to go home and rest. I have found that my pain levels are always significantly reduced after a treatment it may not always be instant but within 24hours I feel like a new person. I find that I can walk better and without the snapping and pinging of muscles.
Massage has also helped me get a good night's sleep which in itself has a very positive outcome. Massage and myofascial release has proved to be a lifeline for me allowing me to maintain a 'normal' life and something that I could definitely not do without" – Jenny.
References:
Ehlers-Danlos Syndrome 2 Edition - Ehlers-Danlos Support Group
Ehlers-Danlos Syndrome, Hypermobility Type [EDS Type III, Ehlers-Danlos Syndrome Type III. Includes: Benign Hypermobility Syndrome, Familial Hypermobility Syndrome, Articular Hypermobility Syndrome]: Howard P Levy, MD, PhD: 2007
The oxfords dictionary definition is –
Pronunciation: /ˌriːflɛkˈsɒlədʒi/ 
NOUN
[MASS NOUN]
1
A system of 
massage
 used to 
relieve
tension
 and treat illness, based on the theory that there are 
reflex
 points on the feet, hands, and head linked to every part of the body.
This definition is in part true. The theory behind reflexology is that the feet are a mirror image of our bodies (see diagram below) and by performing a pressured massage on certain points of the feet it can help restore the body's natural balance.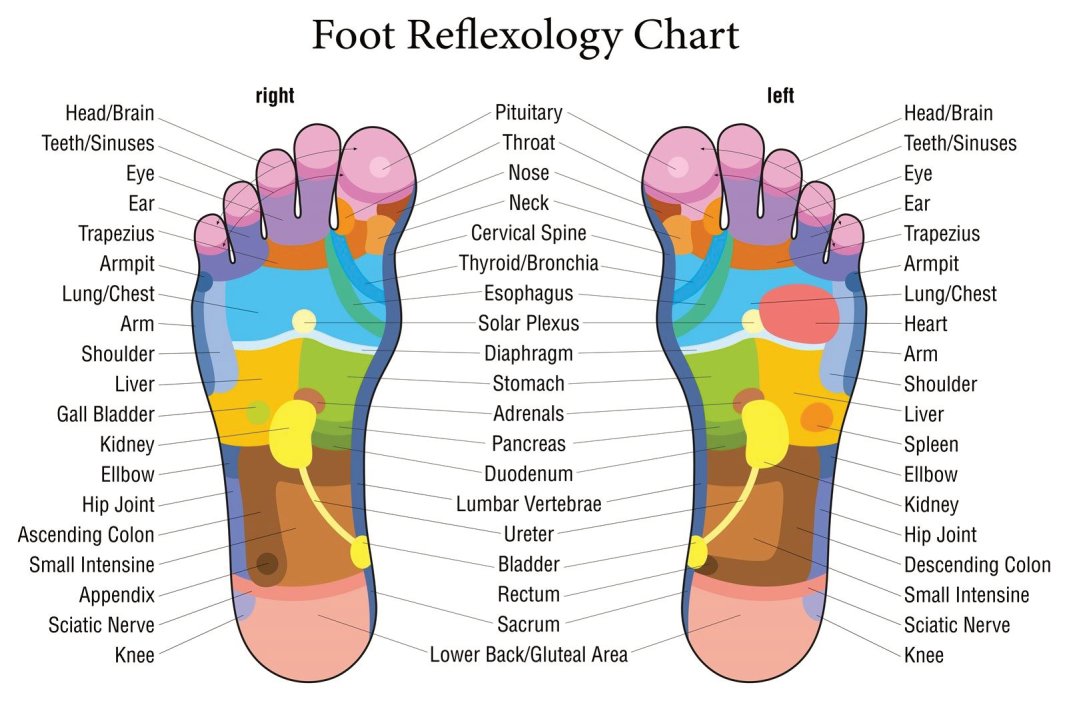 Reflexology has been practised for thousands of years and has been found to have been cultivated as far back as 4000BC in both the Chinese and Egyptian cultures, with drawings depicted on the walls in the tomb of Ankmahor. The Native American Indians were also noted to have practised a form of foot therapy for their wellbeing.
So, how can Reflexology help you?
A.J Mc Vicar et als 2006 study suggested that with the connection between stress/anxiety and well-being, reflexology may have some beneficial outcome for patients as it reduced state anxiety and cardiovascular activity.  I know myself that when I have had a reflexology session I feel relaxed, destressed and calmer and patients that I have treated have said themselves that they well relaxed and calmer also after their treatments.
Dr Carol Samuel, a trained reflexologist, under took research at the University of Portsmouth into reflexology as a method of pain relief for her PhD. She found that people felt 40% less pain and were able to stand pain for about 45% longer if they introduced reflexology as a method of pain relief. Thus suggesting that reflexology could be used to alongside conventional drug therapy in the treatment of conditions associated with pain such as osteoarthritis and backache.
The above are just a couple of ways in which reflexology maybe able to help. However, more research is still required in this field.
What can you expect from a Reflexology treatment?
As a therapist, I like to firstly soak my patients feet in a warm foot bath with tea tree and lavender solution to help aid relaxation and to clean the feet.
After the feet are dried, the patient is asked to lie down on the couch where I check their feet for any verruca or any other issues. The treatment begins with warming the feet up before I actually begin the reflexology. I use a foot lotion to make movement more fluid and begin the firm but relaxing massage of both feet. Some areas may appear tender to the patient and this often indicated an imbalance in the area of the body. The session is finished off with a relaxing foot and lower leg massage.  The session can take 45 – 60 minutes depending on the session booked.
To gain the most out of a reflexology it is advisable to book 1 weekly  treatment for 6weeks  before going on to maintenance treatments every 4-8 weeks.
Therefore for the month of September I will be offering the following special promotion at Ocean Fitness:
Book and pay for 3 x 45min treatments in the month of September and get your 4 one FREE.
Not to be used in conjunction with any other offer.
A.J Mc Vicar, C.R Greenwood, F.Fewell, V.D'Arcy, S. Chandrasekharan, L.C. Alldridge. : Evaluation of anxiety, salivary cortisol and melatonin secretion following reflexology treatment: A pilot study in healthy individuals: Complementary Therapies in Clinical Practice. Vol13, iss3, Aug 2007, Pg 137-145
Carol A.Samuel, Ivor S Ebenezer: Exploratory study on the efficacy of reflexology for pain threshold and tolerance using ice-pain experiment and sham TENS control: Complementary Therapies in Clinical Practice. Vol 19, iss 2, May 2013, Pg 57-62.
Fibromyalgia and Massage by Carla Ward
Fibromyalgia is a chronic musculoskeletal pain disorder that is estimated to affect between 3% and 6% of the global population according to the National Fibromyalgia Association in April 2010. It generally affects more women than men in the 20 – 60 year old age bracket.
It has a variety of symptoms that can range from:
·         Pain, with the inclusion of 18 tender points
·         Morning stiffness
·         Concentration and memory problems -- known as "fibro fog"
Research has shown that the role of regular massage in the treatment of Fibromyalgia can play a   positive role, with improving pain, anxiety, depression and quality of life in patients (Li et al, 2014) This may be due to the fact that massage provides some form of psychological relaxation and reduction in anxiety due to the slow, rhythmical and repetitive manner of the treatment. (Çinar & Eşer 2010)
Having treated patients with FMS, I also use heat therapy within the treatment, this has shown to have an effect the autonomic nervous system (ANS) in relation to stress. Heat relaxes the ANS so helping to reducing stress. (Lee et al, 2011)
Every FMS patient is different and I have found that the massage treatments will vary from patient to patient.  So I treat according to the individual and what their body requires at the time of treatment.
Yan-hui Li, Feng-yun Wang*, Chun-qing Feng, Xia-feng Yang, Yi-hua Sun:  Massage Therapy for Fibromyalgia: A Systematic Review and Meta-Analysis of Randomized Controlled Trials   2014
Çinar S, & Eşer I: Effect of Sleep Quality of Back Massage in Older Adults in Rest Home. Deuhyo Ed 2012, 5 (1), 2-7
Lee Y-H, Park BNR & Kim SH:The Effects of Heat and Massage Application on the Autonomic Nervous System. Yonsei Med J. 2011 52(6):982-989
/